Adzooma is a Google, Facebook and Microsoft ads platform, designed to manage, optimise and automate multiple accounts from a single login. 
And what do we think? We like it so far.
It's designed to reduce your daily ads workload, and it does this by keeping you informed suggesting improvement optimisations and shortening time-consuming tasks.
The platform keeps you on track by suggesting what you should do next with regard to your ad campaigns. Which is really useful when it comes to planning and prioritising tasks, as it ensures you are using your time on tasks that make the biggest impact.
Adzooma's reporting is top notch too and means you can showcase your results to get credit for your successes.
Accounts are 100% free for everyone
Complete access – no restrictions or contracts
Google, Facebook & Microsoft Partners
Adzooma's mission is 'to make digital marketing accessible, cost-effective, and straightforward to all businesses, no matter what their size'. And it seems they are doing their best to realise their goal.
That's also why they offer the platform for free as it fits this goal.
In our humble opinion, Adzooma is best for anyone who is looking to:
Save time managing multiple accounts
Simplifying, identifying and applying expert optimisations
Producing detailed, brandable, professional looking reports
What Do You Get?
Apparently, the aim of Adzooma's technology is to drive up campaign results, while reducing the time spent on management. And along with some of the other SaaS platforms we reviewed at GrowthSupermarket, it uses intelligent machine learning.
So the more you use Adzooma, the better it gets. Which is a bonus if you plan on using it long term (which, given it's free – why wouldn't you?). As like all good relationships, it matures and becomes more rewarding with age.
Behind the scenes, Adzooma runs in the background 24/7, analysing your account looking for opportunities to improve your performance. 
When you login, you're presented with these opportunities which you can apply or ignore. And as Adzooma is linked to your account, many of the improvements can be applied immediately with a click.

Here are a few things we've picked out from Adzooma's box of tricks:
Check the performance of your accounts and campaigns from a single dashboard.
Add new keywords, increase your budget and replace underperforming adverts all at once.
Drill down to individual ad groups and change budgets without ever leaving your management screen.
You can also automate tasks, create professional, branded reporting, and the single dashboard management screen means you have everything in one place.
Invite multiple users and unite your team to achieve the results you need from your paid advertising.
All levels of advertising experience and usage are catered for, with different pricing packages.
The tech is very user friendly and the interface is clean and self explanatory. The platform has many functions, at many levels but is designed for ease of use.
So it doesn't matter if you work alone, as part of a team, or at agency level, you can use as much as you need. This means you can grow into, rather out out of it, as you expand your campaigns.
Why is it free?
The most obvious question when you see such an advanced platform being offered for free is 'why?'. After all, they're a company so they still need to make money so you'd be right to wonder if there's a catch.
The good news is there are no catches. The platform genuinely is 100% free. For that, you get complete access to the entire tool, too. There is nothing locked away behind a paywall and no hidden fees or contacts. You get to add unlimited accounts and unlimited users and can use all of the features to manage them for as long as you like.
Almost sounds too good to be true, right? That's a fair concern but when you dig a little deeper you realise it's an unfounded fear.
You see, Adzooma have always maintained their mission is to make online advertising accessible to everyone. Giving the platform away for free helps them achieve this.
Instead, they make their money from the Adzooma Marketplace, a place where agencies and SaaS can list their products and services for a monthly fee. This gives Adzooma the cash flow to keep investing in the platform without having to charge people to use it.
With that covered, let's have a closer look at all the features you get in the free platform:
Full multi-account PPC management and optimisation
Adzooma allows you to manage and optimise multiple Google, Facebook, and Microsoft ads without having to switch platforms. And the process of importing your accounts, or your clients' accounts into the platform is really fast and simple.
And there's no waiting as once they're connected you can instantly see how each account is performing.
The first thing we'd suggest you do then, is use the 'Opportunities' (See below) to find improvements, which you can choose whether to apply or not.
Adzooma also monitors your accounts 24/7, so you're always working with up-to-date information. And useful alerts inform you of things you need to attend to before they become problems.
We do like the fact that ultimate control is left with the user. Sometimes your experience knows better than AI, so it's great to have the grunt work done for you, but then make final decisions yourself.
Identify optimisation 'Opportunities'
We are sure that one of the main factors in Adzooma's fast growth and popularity are their reporting tools. Each report is designed to give you insights into your accounts with real, actionable changes you can implement straight away.
To be fair the speed Adzooma works at is impressive. And let's face it. No one likes waiting, right?
For instance, Adzooma's analysis of your data, and identification of opportunities for improvement, is based on 240+ assorted important metrics.Yet it's completed in seconds.
And again, the changes aren't automatically actioned. You choose which ones fit your overall strategy and you can apply many of them with a few clicks.

Reporting Suite
We think Adzooma's reporting is impressive and a great asset for any marketer to have in their arsenal. I would go as far as saying it is better than some of the paid platforms that we have reviewed.
It includes 6 reports:
Performance Report (Highly Recommended for Google Ads marketers): The performance report is Adzooma's flagship report, designed to give an overview of how your ad accounts are performing. It comes with a score /100 and an easy to scan breakdown of key account areas, suggesting changes you can action right away.
Funnel Performance Report: Track where users drop off, identify problem points, and see exactly how each stage of your funnel is reporting.
Device Report: Get a full breakdown of your campaign's performance on each device, ready for pin-point accurate targeting.
Best & Worst Performers Report: Discover the best and worst campaigns, keywords, and ads that you're running. Use this data to cut your losers and set up more winning combinations.
Cross Channel Report: This report allows you to analyze and compare your campaigns across both your Facebook and Google Ads, letting you find the best channels for each campaign.
KPI Trend Report: Track your KPI performance over time, identify your weaknesses, and the trends where you can profit.
The reporting section is included with the platform, but at the time of writing, you can access it free even if you haven't joined Adzooma.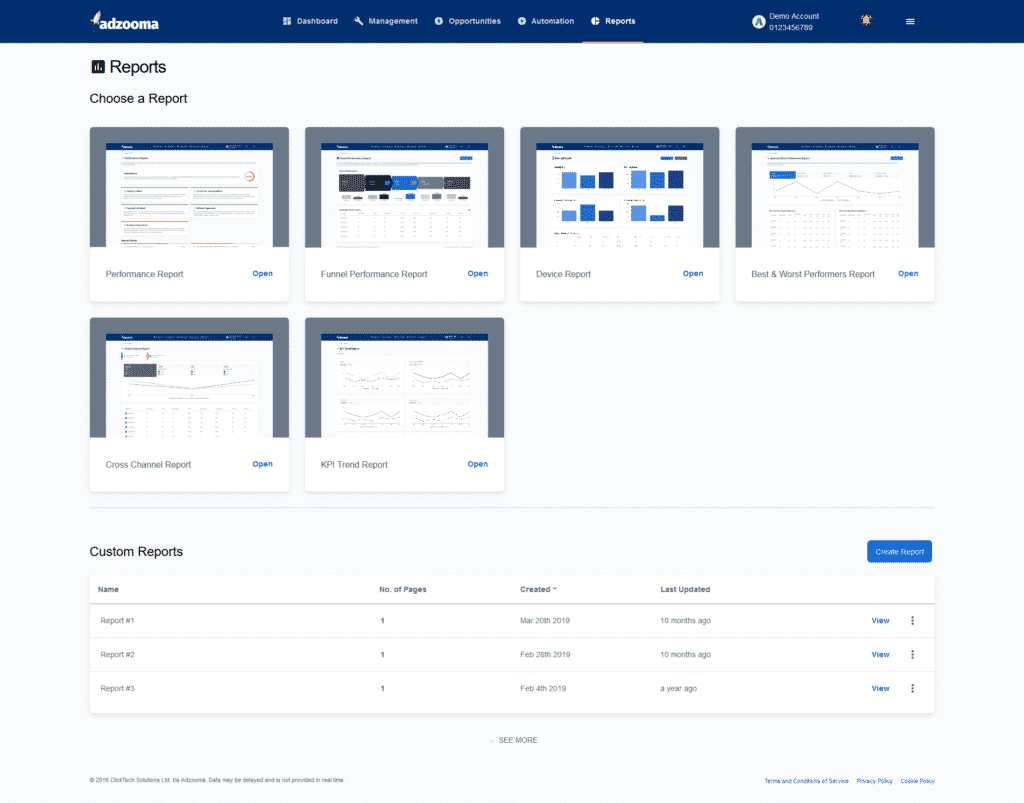 Automate repetitive tasks
We hate repetitive tasks and love automating them, so we have to mention Adzooma's automation features. They are actually easy to use, so you quickly free up time by assigning those pesky little time consuming tasks to the platform.
You can create automation rules to manage your campaigns, ads, and targeting. You can set-up notifications when rules are triggered, you can choose to make the changes yourself, or you can let Adzooma do it for you.
Examples could be to change a campaigns budget when clicks have exceeded a specified amount or get a notification when an advert's CPC hits a certain level. 
Set this up correctly and it can save hours of manual work. In other words, if you don't already use automation, once you've tried it you'll never go back.
Share your successes with customisable reports
Reporting is one of the single most significant time wasters for PPC managers and marketing managers. It's usually a long and complicated process, which just for the record, we hate doing.
We really like Adzooma's custom reporting tool. You can select the data you want and how to present it in just a few minutes. 
Choose from multiple pre-defined reports, custom reports, add text, images, graphs and your logo, so you can send your creation to a colleague or client. You can run reports whenever you need them and they'll automatically update, which is another great time-saving feature.
Keep your team focused
Adzooma allows you to invite team members, assign them accounts to work on and use permissions to control who sees what. Not very exciting if you work alone, but the bigger your team the more useful it will be.
Separate logins help to avoid duplicating work and reporting can be shared so the whole team has visibility on their overall performance.
Adzooma is ideal for agencies
Your team may be driven, but there are a limited number of hours in the day. So the number of clients you can manage is limited. If you want to scale, you need to hire more people, which costs time, money and effort.
That's where SaaS platforms shine and Adzooma is no exception. 
We see agencies really benefiting from this as it gives teams the help they need to get more done in less time. Which gives agencies the option to take on more clients without hiring more people.
If Adzooma replaced hiring a single person, then in our opinion, it's fantastic value for money.
But it gets even better than that for SaaS platforms and agencies, they can add on a listing in the popular Adzooma Marketplace to get themselves in front of more targeted potential customers. Sure, there's a monthly fee to do this but in return, you can get a lot of exposure so many will find it pays for itself several times over.
Any negative points?
Not much to complain about for most people. We'd say there are 3 small negatives for Adzooma:
Limited features for Facebook at the moment
So far, only integrated with the three major platforms, not any of the smaller ones
You need some knowledge/experience to really make the most of the platform